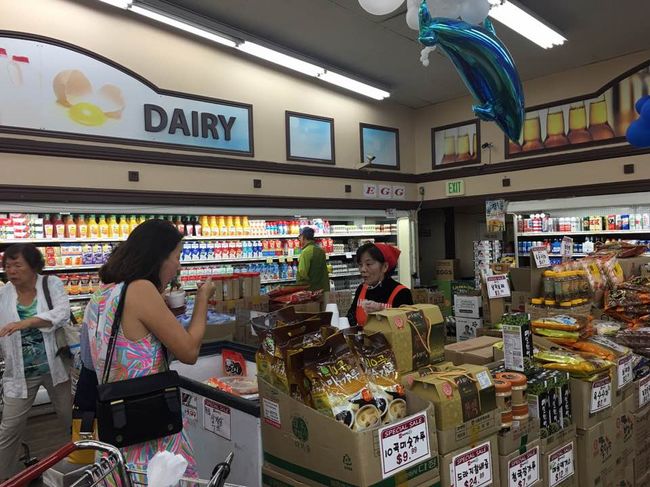 A well-organized taste testing can liven up the entire supermarket. Taste testing of various food packages have long been considered an attraction of grocery shopping at Koreatown markets. So what is the most popular item to hit the taste testing stalls in recent days at markets across Koreatown?
Those in the business pick mandu, a Korean-style dumpling, as the most popular item. The types of mandu are diverse, ranging from packages produced by large food manufacturers CJ and Pulmuone to ones made by smaller local businesses.
Mandu can be fried, baked or steamed, as there are many ways to cook the dish, which is one of the main reasons why it often appeals to non-Koreans as well, according to those familiar with the sales strategies at Koreatown markets.
Among hundreds of products, there are different ways in which markets in Koreatown choose items to promote through taste testing. Some items are promoted upon requests from the respective markets' management company or vendors, but others may be chosen based on the season and its popularity.
On weekdays, markets tend to promote "lighter" items, such as mixed grains, dried fish and curry. During weekends, when more customers flock to the market to get their grocery shopping done, a full course of mandu, fruity vinegar, pig feet, soju, ramyun and ice cream awaits them.
"The most important factor in the success of taste testing is how well the items are tailored to the season," said California Market manager James Park. "Cold noodles and ice cream are popular in the summer, whereas fish cake soup and red bean-filled steamed buns help to drive up the revenue."
Each market in Koreatown have also amped up efforts to stock exclusive items to appeal to customers. While Hannam Chain has signed exclusive contracts with local manufacturers such as Somseeneh (mandu), Dokil Bakery (pastries) and HS Food (fish cake), Galleria Market specializes in California's regional products as well as goods from Japan. On the other hand, California Market is known for its diverse versions of kimchi.
Most of those products are directly exposed to customers who walk through the isles at the markets through various taste testing events.
"Taste testing is a customer service strategy, but it also helps boost our revenue tremendously," said Kyung-hee Hong, who has worked at Hannam Chain for 18 years. "It usually raises the sales rate of the items by 40 to 50 percent."
Markets in Koreatown are known for taste testing of their most popular items. The testing runs seven days a week.
By Sung Yeon Lee