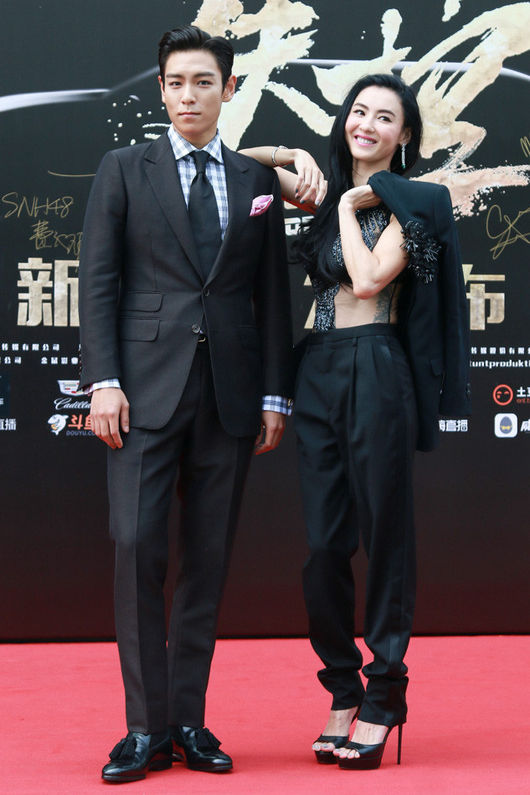 A member of Korean boy group BigBang, T.O.P, starred in the Chinese film, Out Of Control. 
On June 14th, T.O.P and Cecilia Cheung attended the press conference at 2016 Shanghai International Film and TV Festival as the main actor and actress, along with the film director Michael Trevino 
T.O.P made his appearance on the roadster of which Cecilia Cheung took the wheel, capturing much attention. 100+ press media attended the press conference of Out Of Control proved the popularity even before its opening.
The trailer for the movie Out Of Control was unveiled on the same day. T.O.P acted powerful action scenes by jumping out of helicopter and breaking windows. While shooting for the film Out Of Control, one helicopter and a hundred of cars were destroyed and exploded, which raises the expectations for large-scale action scenes.
T.O.P expressed feeling of honor about having worked with Chinese super stars. "We talked much about the film. Throughout the filming, I enjoyed working with Chinese stars and staffs."
T.O.P and Cecilia Cheung brought their personal collections for the charity auction. All proceeds will be donated to help disabled children.
T.O.P is currently having a fan meeting tour in China with members of BigBang.
On June 30th, BigBang is to unveil a new movie titled Big Bang MADE, which contains concert performance recordings, to celebrate the 10th anniversary of its debut.
Original document available from http://www.koreadaily.com/news/read.asp?art_id=4354214
Translated by Daeun Jeong