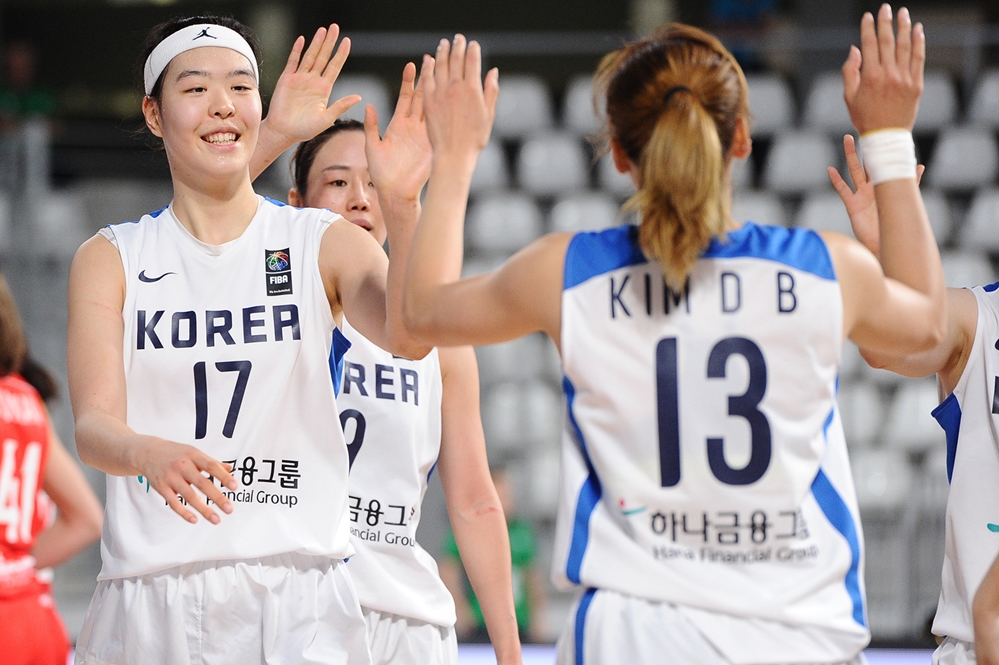 After failing to qualify for the 2012 Summer Olympics, the #12 FIBA-ranked South Korea Women's Basketball team is revived and back with eyes on Rio.
With an emphatic victory over Belarus on June 15, South Korea advanced to the Quarterfinals and stepped closer to qualifying for the 2016 Olympics.
South Korea placed 3rd in the 2015 FIBA Asian Women's Championship, advancing with China to the Olympic Qualifying Tournament held in France. Placed in the Group C seed with Belarus and Nigeria, the Korean women kept a 2-1 record, narrowly losing to Nigeria 69-70 on June 14, only to claim a 66-65 victory against Belarus the following day.
Forward Ajung Kang #7 sunk a 3-pointer in the 1st minute of the Belarus game, claiming an early lead for Korea. The Korean team kept a steady lead over Belarus during the first half, with a 44-41 lead at the end of the 2nd quarter.
In Quarter 3, Forward Danbi Kim #13 maintained Korea's 47-43 lead with a 3-pointer. Belarus, strengthening their defense, overtook Korea 65-64 in the 4th quarter when Belarus Guard Tatsiana Likhtarovich #8 scored a 3-pointer. With 2 minutes to spare, Center Jisu Park #17 reclaimed Korea's 66-65 lead with a layup to end the game.
When asked of the secret to the Korean team's success, Forward Kim replied, "If we lost today we knew that there would be a 10 a.m. flight waiting for us tomorrow. We weren't ready to go home just yet."
With the Belarus victory, the South Korean team is scheduled to play Spain in the knockout round.
Korean Head Coach Sungwoo We invites the challenge of facing the #3 FIBA-ranked European team. Although a victory looks bleak, We expects to offer Spain strong opposition and a great game.
The Korean team will play Spain in the Metropolitan Stadium in Nantes, France on June 17.
Original article manuscript can be found here
Translated/Adapted by Hankyul Sharon Lee