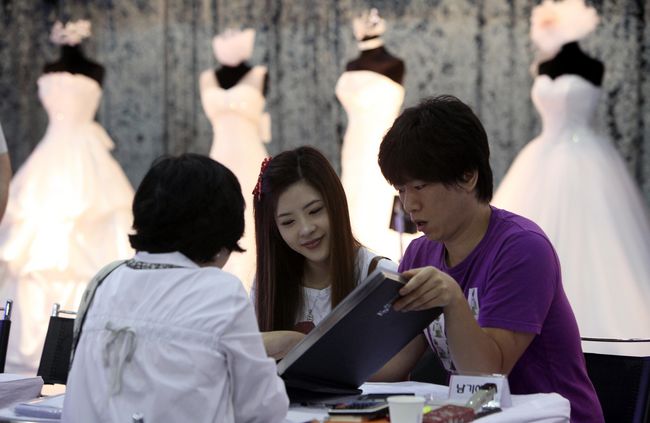 Jessica Moon, who is getting ready for her wedding, is deeply worried. The cost of her preparation so far has already exceeded the preplanned budget. From wedding dress to photoshoots to makeup costs, the asking price has exceeded her budget each time. Moon found herself helpless as she spent her way to prepare for the wedding.
As is the case with Moon, many businesses are targeting soon-to-be brides to drive up their asking prices. By taking advantage of the couples who are edging closer to their big day, the businesses are cashing in on those who are struggling to find alternate options.
In essence, the cost of a wedding is often considered "as expensive as it costs." Especially in terms of wedding dresses, bride makeup and photo shoots, there are often added costs outside of the pre-agreed terms.
For example, wedding dress rentals often come with extra fees if the dress is considered as a "new arrival." Although rentals generally cost 50 percent of purchasing, but renting the new arrivals are often 70 to 80 percent of the dress's original price. Hence, the bride is often forced to spend $200 to $500 more than the advertised price.
"There is no way to validate whether or not a dress is a new arrival or not," said Moon. "It does feel fishy to make an extra payment based on what the salespeople say."
Makeup and hairstyling are no exceptions. The prices vary greatly depending on the experience and position of the stylist. Although most businesses charge around $100 for general makeup, brides' makeup often cost at least twice more.
It is the same for skincare. As soon as the businesses find out that the customer is preparing for a marriage, the price drives up by 20 to 30 percent.
For photoshoots, customers often have to choose the number of albums, types of video and size of the frames. As most deals come in packages, it is impossible to negotiate the price. In fact, additional options such as outdoor shooting requires extra cost.
"Catering, dress rental, studio shooting and makeup cost around $10,000," said another soon-to-wed bride Eun-jeong Han. "Getting ready for a wedding has been bitter."
CAPTION: Women preparing for their weddings are swindled by various businesses. Businesses that offer makeups and photoshoots often ask for extra cost specifically from soon-to-wed brides. The photo above is not related to any details in the article.
By Sung Yeon Lee