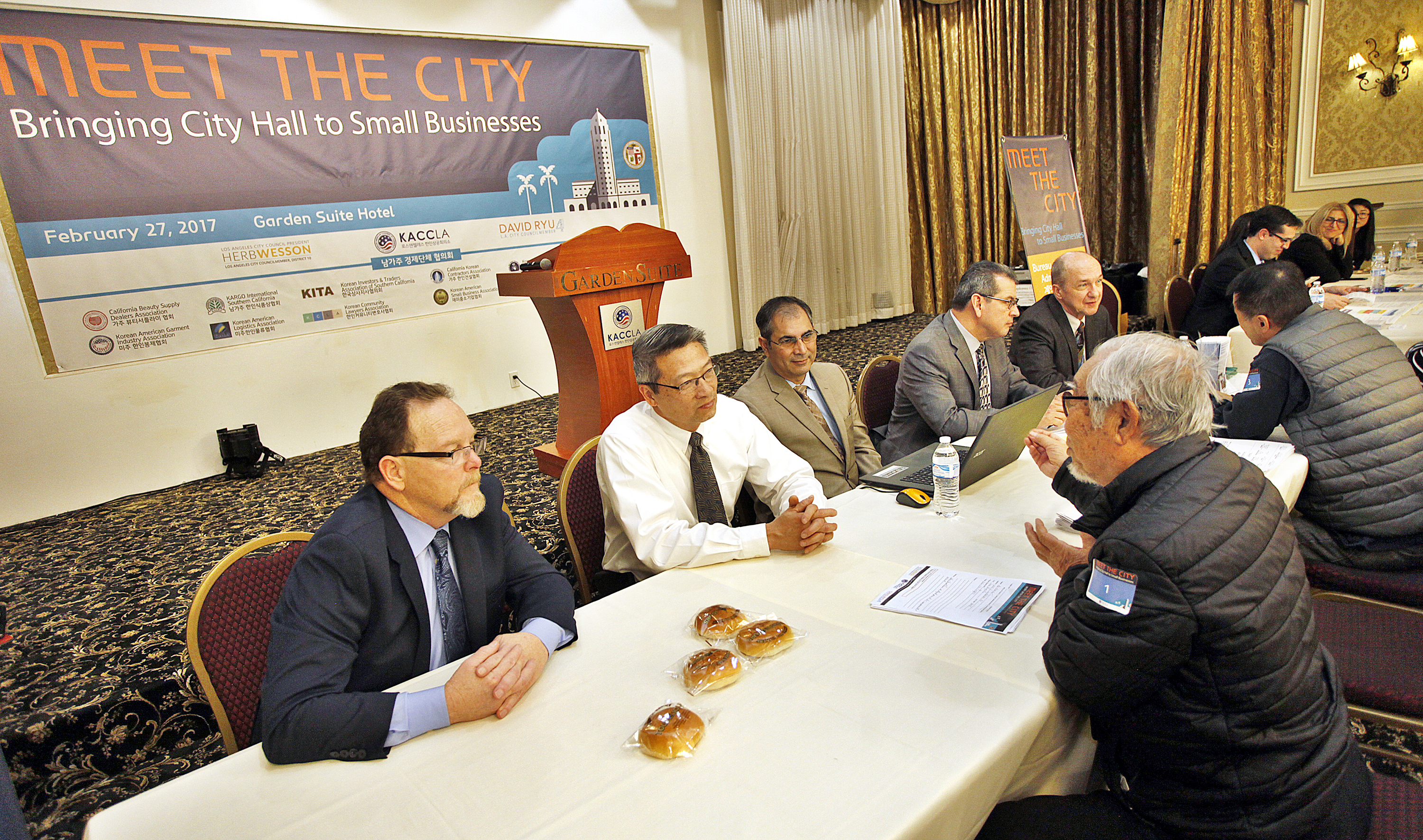 "There's an eight-unit apartment building near Hollywood. It needs some reinforcement work to be able to withstand earthquakes, but the construction cost is too high. I'd like to change my contractor. What should I do?" (Hollywood resident Don Choi)
"I'm operating a body shop on Olympic Boulevard, but I feel like I'm paying too much in taxes. Do I have alternate options to save money?" (Koreatown resident Peter Kim)
Korean-American small business owners came flocking into Garden Suite Hotel in Los Angeles Koreatown to meet with city officials to discuss their concerns for the betterment of the local economy. Hosted by the Korean Chamber of Commerce, the "Meet the City" event arranged a meeting between city officials and small business owners in the Korean-American community.
Twelve city officials from the Office of Finance, Bureau of Contract Administration and Department of Building and Safety participated in the event.
Interpretation services were provided for Korean-speaking small business owners, while L.A. City Councilmen David Ryu and Herb Wesson also took part.
The busiest booth of all was the one set up by the Department of Building and Safety. "Most of the cases were between property owners and contractors," said case manager Michael Mikane. "The questions were mostly, 'I don't like my contractor because of the high cost. What do I do?' sort of questions."
Hollywood resident Don Choi was the best example. Choi appointed a contractor over a reinforcement construction work to better equip his property for emergency situations such as an earthquake, but the problem was that the cost was too high for his budget.
"I made an inquiry to another contractor," Choi said. "The difference in cost was two times higher for me. So I tried changing my contractor, but I was told that I needed to follow everything that was laid out in the blueprint by the construction company's engineer. So I came here to ask if I have other options."
Choi added: "The city official told me that I can change my contractor, but it'd be difficult for me to go against what the engineer laid out, as it has already been approved by the city. But I did learn that I can make a call to the city's inspector to come in and seek additional options. I didn't know that I could do that. More than anything, it was great that I could meet with city officials firsthand like this."
Office of Finance representative Monika Mcknight was also in attendance to provide answers to business owners, including Koreatown resident Peter Kim, who is running a body shop.
"I learned that if I file the payroll and equipment fees separately, I could save on my taxes," Kim said. "I heard that I can pay just $1.50 per $1,000 I make compared to $4.5 per $1,000 I've been paying until now. I'm going to apply that change immediately."
Although personal counseling was limited to just five minutes, the city officials accommodated the attendees by prolonging the sessions. The Korean Chamber of Commerce did regret that there were only 20 applicants at the event. It was difficult to invite as many business owners to the session as the event was held on a weekday.
"It was a good start to be able to meet with the Korean community," said Mikane. "We're going to continue to keep in contact with those who attended the event today and follow up on their progress. It would be even better if more small business owners can participate in the next event so that we can deal with a variety of cases."
Korean Chamber of Commerce chairman Eun Lee said, "We understand that this is an event that we absolutely need. We're going to try to find ways to encourage more people to participate."
By Moon Ho Kim