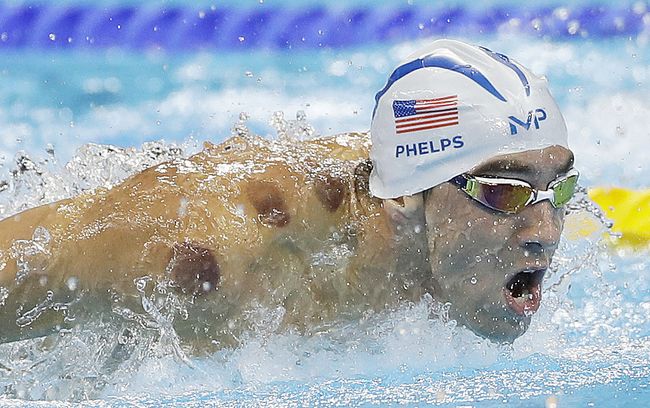 Viewers of the ongoing Rio Games who saw American swimmer Michael Phelps win his record-breaking 19th career gold medal last Sunday were asking one common question.
Why does Phelps have strange big, purple dots around his right shoulder?
The telltale dots, which were prominently visible on Phelps' right shoulder blade, have piqued the curiosity of many people, who took their questions to social media.
Soon after, the answer arrived. The dots were left after Phelps underwent "cupping," a practice originating from Chinese medicine, which enables smoother blood flow between the skin and its underlying muscles.
The technique has been widely used in Eastern medicine for centuries as it uses the cup to lift the skin from the muscles to draw blood into the area, easing soreness and healing overworked muscles.
"Even among Hollywood stars, cupping has become a popular form of treatment for patients who want to create better blood flow," said Los Angeles Koreatown-based Myung Ga Acupuncture founder Jinyoung Kim.
Likewise, even though cupping has grabbed national attention this past weekend thanks in large to Phelps, there are plenty of other swimmers, gymnasts and weightlifters today in Rio who have turned to the technique to recover from intensive training.
"About 40 percent of our patients are non-Koreans and they usually come in for a session of cupping," said Woo-kyoung Lee, a clinical director at Jaseng Center for Alternative Medicine.
Interestingly enough, Western many medical experts say that placebo effect is perhaps the biggest benefit to patients who undergo cupping as no scientific reason has been found as to determine the validity of the technique.
American swimmer Michael Phelps, who holds the record for the most gold medals won at the Summer Games, competing in men's 200m butterfly after he underwent cupping on the previous days. The marks are visible on his shoulder. [AP]
By Hyoung Jae Kim