Former 2NE1 member Park Bom shared a letter to her fans on Twitter after leaving YG Entertainment upon 2NE1's disbandment.
On November 30, Park Bom uploaded a hand-written letter, addressing how she feels about the current happenings.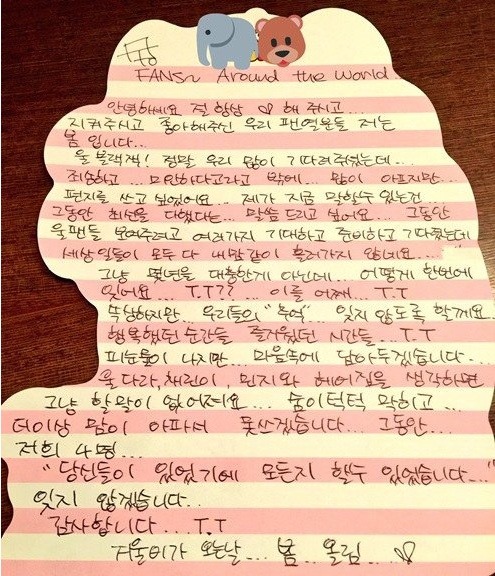 In the letter, the artist writes how she feels sorry to disappoint fans who've waited so long. "It really hurts, but I wanted to write a letter," she writes. "All I can say now is that I've done my best and waited so long to be back with things to show our fans. But things didn't work as I'd want them to."
"I feel terribly sad but I won't forget our memories," she continues. "Thinking about parting from our members Dara, Chaerin, and Minzy makes me speechless and heartbroken."
Through the letter, Park Bom expressed how she feels thankful of fans who'd supported the four.
YG Entertainment officially announced 2NE1's disbandment on November 25. Park Bom ended the contract, while CL and Sandara Park made their decision to stay with YG.
By Heewon Kim