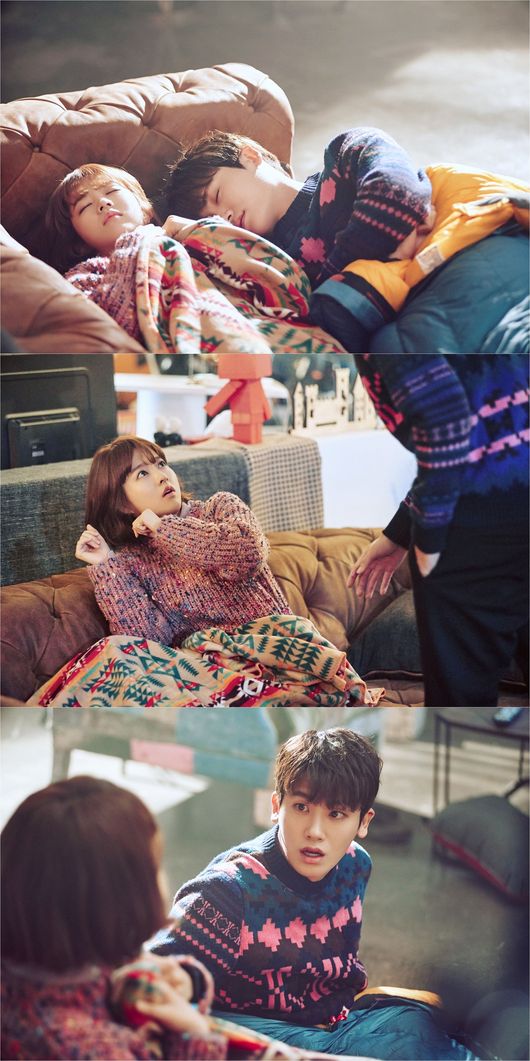 Park Bo-young and Park Hyung-sik are caught sleeping side-by-side in the latest stills for the drama "Strong Woman Do Bong-soon."
The drama was able to break through a 6% viewer rating just by the second episode. The drama mainly revolves around a girl named Do Bong-soon who has superhuman strengths, a spoiled, strange, and rich guy named Ahn Min-hyuk, and the most righteous man possible named In Gook-doo.
Do Bong-soon got employed as Ahn Min-hyuk's bodyguard last episode and got to stay at his house. But In Gook-doo, displeased with this idea, came over and the episode ended with the two guys fiercely eyeing one another.
The latest stills of Park Hyung-sik and Park Bo-young are evoking viewers' interests, and this scene is planned to be shown in episode 3. The two look similar to each other in the stills, making the two look even more adorable.
Viewers are already in love with the two and many look forward to Friday just for this drama.
Officials of "Strong Woman Do Bong-soon" stated, "The love triangle among Bong-soon, Min-hyuk, and Gook-doo will intensify from this week's episode. Im Won-hee and Kim Min-gyo will appear soon as well, adding an element of comedy to the drama."
Original article available on http://www.koreadaily.com/news/read.asp?art_id=5049613 
Translated by Ellen Kim