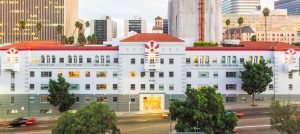 An average studio costs nearly $2k a month even older apartments are raising rent prices due to rising market value and construction cost  "Is there a new two-bedroom apartment unit out there for around $2,000?"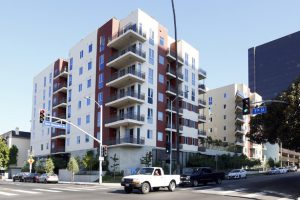 That has become something of a commonly shared question among those looking for new homes in Los Angeles Koreatown. As the town is going through a facelift with newly-built, upscale apartment complexes replacing older buildings, an average two-bedroom unit now easily surpasses $3,000 per month for tenants.For recently built apartments, the rent cost for all of its two-bedroom units are above $3,000, according to data compiled by the Korea Daily via Apartment.com. Some two-bedroom units of high-rise buildings even surpassed $5,000 per month.
Even some single-room studios of new apartment complexes cost nearly $2,000, as one-bedroom units commonly range between $2,000 and $3,000. Only a few years ago, two-bedroom units at high-rise apartment cost no more than $2,000. Such a rapid increase in rent cost has prompted a major concern over an excessive rise in L.A.'s cost of living.
The primary reason behind the soaring rent in L.A. is the real estate market boom, as well as the costly construction cost in recent years. For L.A. Koreatown, a square foot is now worth between $300 and $500 from only $100 to $200 a few years back.
"It is true that the market value has simply gone up," said a real estate developer. "The demand is extremely high at the moment, so there's no reason to lower the rent. We're simply monitoring the market's progress and have either offered additional incentives or slight discounts."
An added criticism against real estate developers in the region is that the rising market value has also convinced property owners of the town's older apartment complexes to increase rent as well.
The K2 Apartment, which opened last July, is offering a 400 to 500 square-foot studio for around $1,800 and $2,000 per month. A 520 to 900 square foot one-bedroom unit is available for around $2,000 to $2,650, while a 1,000 to 1,250 square foot two-bedroom costs range from $3,100 to $3,450.
The Abbey Apartment on Sixth and Normandie, once used by real estate developer Jamison Services' office building, was remodeled into a residential property. Its 545 to 760 square-foot studio unit costs $1,900 to $2,200. A two-bedroom unit, around 3,250 to 3,600 square-feet in size, is available for between $3,250 and $3,600. Another apartment on Olympic Boulevard, which opened recently has rated its two-bedroom unit to cost anywhere between $3,175 and $4,950.
The rent obviously costs more for high-rise apartment buildings. The 3033 Wilshire, located on Wilshire and Virgil, is renting out a studio for between $2,375 and $3,050, a one-bedroom unit for $3,100 to $4,000 and a two-bedroom unit for $4,225 to $5,875. Its penthouse, also a two-bedroom unit, is available for around $7,700 and $10,000.
Such figures are in stark contrast to many two-bedroom units that were made available only a few years, most of which cost only around $2,000.
Versailles Koreatown Apartments, located near Koreatown Plaza as the neighborhood's very first luxury residential property, is currently renting a one-bedroom unit (610 to 650 square feet) for $1,900 to $2,077 and a two-bedroom unit (950 to 1, 000 square feet) for $2,500 to $2,600. For Wilshire Vermont Station Apartments, a studio is rated at $1,800, one-bedroom unit at $2,100 to $2,250 and two-bedroom unit at $2,750 to $2,950.
The cost of rent in Koreatown also differs greatly from other areas in L.A., including downtown and La Brea.
Wilshire La Brea apartment, which opened recently, is offering a studio at $2,115 to $2,260, a one-bedroom unit for $2400 to $3,400 and a two-bedroom unit for $3,100 to $5,500. At 1111 Wilshire, located near Wilshire Boulevard and the 110 freeway exit, is offering a studio at $2,000 to $2,265, a one-bedroom unit at $2,030 to $2,765 and a two-bedroom unit at $2,900 to $3,500.
Aside from that, APEX. The One. Apartment in Downtown L.A. on Ninth and Figueroa is offering a 640 to 800 square foot studio for $2,670 to $2,920, a 700 to 1,160 square foot one-bedroom unit for $2,965 to $3,340 and a 2,000 square foot two-bedroom for $6,200.
"It's essentially impossible to rent a new two-bedroom apartment unit for around $2,000 a month nowadays," said Keller Williams Realty agent Dae-young Hur. "The rent in Koreatown is now set considerably high, so it's more difficult for Korean-Americans to move into their own communities, as even the older apartments are raising the rent. In a way, it's making life more difficult for average Korean-Americans."
By Hyun Woo Kim