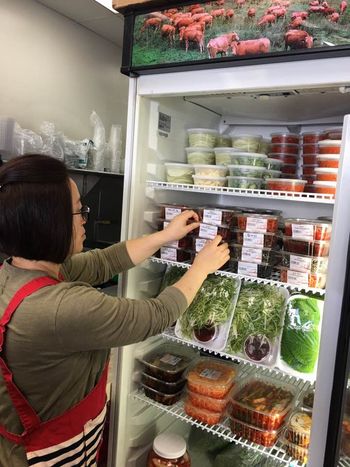 Many meat shops in L.A. Koreatown are going through a period of transformation in recent months. Apart from their traditional butchered items, such as short ribs, pork belly and beef briskets, the shops now have food items that customers may see as fitting complements to the meat they are buying.
Those items are best exemplified by rice or radish sheets, shredded radish, various sauces, lettuce wraps, sesame leaves and salted green onions.
At the meat shop in Western Rodeo Galleria, there is even a separate corner for banchan (side dish) items. The banchan section of its shop includes a wide range of items from fish to vegetables to kimchi.
"I have some experience from running my own restaurant in the past," said Shin Sun Meat shop owner Keum-sook Joo. "I began making side dish items one by one, and they've all been well received by the customers."
Many in the business say that sales of items other than fresh meat make up about 15 percent of each of the shop's total revenue.
At Choice's Meat Company on Western and 3rd, there are stacks of boxes full of items that are complementary to the fresh meat on sale. Those include rice and radish sheets. Brisket sauce, pickled jalapenos and more. "These items have helped boost our revenue," said one employee at Choice's Meat Company.
Some meat shops have even have sections with shelves with those items on display.
"The price for side dish items is a bit higher than regular markets, but it's convenient for me to come in and get everything I need in one trip," said one customer who visited Choice's Meat Company to prepare for a family camping trip.
By Sung Yeon Lee