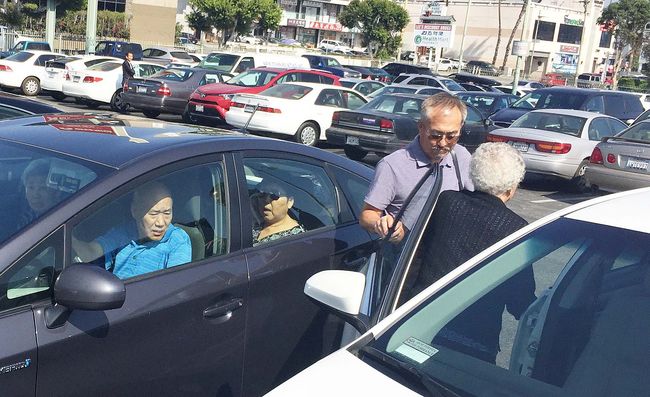 As the overall population is steadily aging, a large part of the senior population in Southern California is opting to take public transportation over driving on their own. Many of them say that they would rather give up their cars as getting around without one has become increasingly more convenient and economical.
Across the nation, there has been an increasing number of drivers who are 85 or older. Various studies have shown that the rate of car accidents among those in advanced age is greater.
"At first, it was really inconvenient to take public transportation or to ask my children to drive me around," said L.A. Koreatown resident Jae-sook Kim, 84, who has not driven after a car accident in 1993. "But thinking back about the accident that I had, it reminds me that using the public transportation is so much more comfortable."
Likewise, many senior citizens in and around Koreatown share Kim's sentiment.
"I haven't been driving for five years now," said 79-year-old Jeong-seon Oh. "I'm still physically healthy [to take public transportation] and it has not been inconvenient at all. When you have a car, the financial burden can be a pressure since there is maintenance costs and gas. I'm actually spending a lot less even though I take the cab quite often."
Obviously, there are downsides to giving up driving in Southern California, where public transportation is inefficient compared to other metropolitan areas around the world.
"I wait much longer than expected sometimes, which worries my family as they're waiting for me at home," said Oh.
Moreover, the government-issued cab card provided to senior citizens is limited to $60 per month and $12 per trip. Also, the Korean cab services within Koreatown offers a good value at $5 per trip, but that is only within the neighborhood.
However, the National Institutes of Health (NIH) still encourages senior citizens to utilize the public transportation, but advises them to further explore other services made available to them.
For example, senior citizens who may struggle to get around on their own could use various delivery services, as majority of food and pharmaceutical goods can be delivered directly to their doors. Meals on Wheels, a nonprofit volunteer community service designed to deliver nutritious meals to the ill, disabled and those of advanced age.
To find out more about services available by city, one can access www.eldercare.gov or call 800-677-1116 for more information.
More Korean-American elderly citizens are starting to prefer public transportation over driving their own cars. Senior citizens in Koreatown are using a cab service for their grocery shopping needs. Sang Jin Kim
By Byong Il Kim