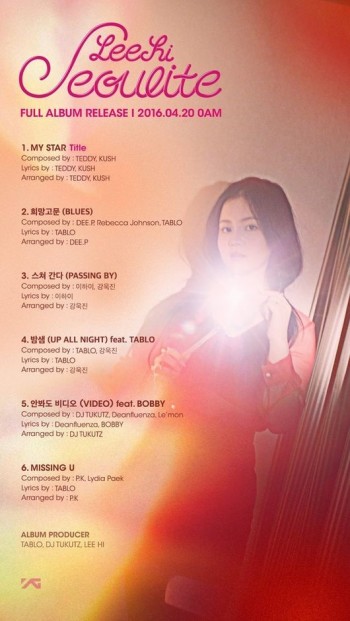 With Lee HI's new album finally uncovered with its completed track list, collaboration with other YG artists grabs a special attention.
Title track of the album is "My Star," which is produced by Teddy and Kush. Among K-pop fans, collaboration of Teddy and Kush is already well recognized with hit songs including 2NE1's 'I Don't Care." As their collaboration with YG artists were found to be successful many times, fans waiting for the its release with anticipation.
"Passing By" is another number that is anticipated, because Lee Hi composed it by herself.
Tablo played a significant role in this new album. Not only did he co-produced the album with Lee HI and DJ Tukutz, but he also composed and put lyrics on "Up All Night, " which he featured too.
Another rapper who helped out Lee HI with rap featuring is Bobby of IKON. Lee HI and Bobby together sing and rap "Video," which is composed by DJ Tukutz.
With collaborations from various artists, K-pop fans are looking forward to Lee HI's new album, which is scheduled to be released on April 20.
Original document available from www.koreadaily.com/news/read.asp?page=1&branch=NEWS&source=&category=lifenleisure&art_id=4161972
Translated by Heewon Kim