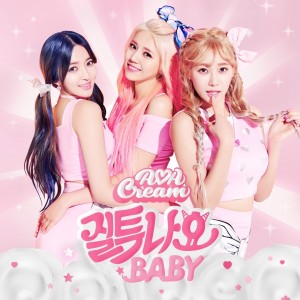 AOA's subunit AOA Cream is to release a sweet and lovely song "I'm Jelly Baby" on February 12th.
The trio consists of Yuna (vocals), Hyejeong (vocals) and Chanmi (rap). FNC Entertainment announced that they will be promoting a girly and funky concept that they have never done before as AOA.
This is the beauty of subunits – you can branch out and try concepts quite different from that of the main group.
Secondly, through subunits, members who were veiled by the popularity of other members in the group get the chance to showcase their talent. Each member gets more camera time, because there are far fewer members in a subunit. This increases his or her likelihood of appealing and connecting with the audience. After School's subunit Orange Caramel is the prime example of a subunit that brought three previously unknown members to crazy stardom.

"I'm Jelly Baby" is composed by Black Eyed Pilseung, the team that wrote Miss A's "Only You," SISTAR's "Touch My Body," and TWICE's "OOH AHH." And AOA Cream's teaser resembles the girly playfulness of Sailor Moon.
Stay tuned for their comeback!
By Hajin Lily Yi