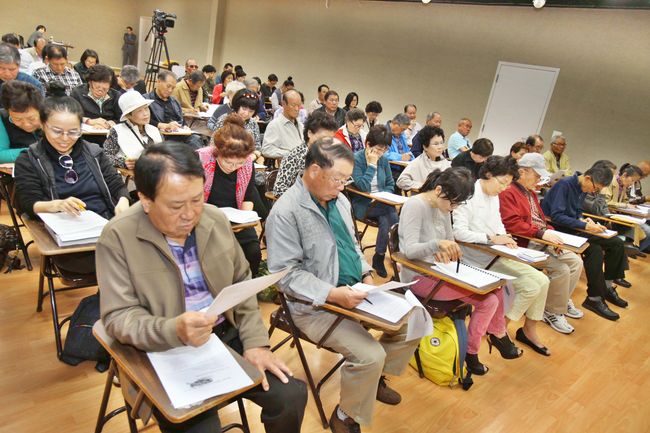 Only seven years after moving to the United States from South Korea, 66-year-old man Kim who's only identified by his last name is studying incessantly for his upcoming citizenship test. He often spends five hours a day by going through practice test questions and listening to the audio files.
"Instead of listening to music, I just play the citizenship test audio file on my CD player," said Kim. As "Can you help me?" is just about the only English phrase he can say in casual conversations, he seems a bit overwhelmed by the test materials.
Kim said in Korean: "I've got quite a few friends who've already failed the test. I did by biometrics only four days ago, so I still have a few months until I take the test, but it won't be easy to pass as I don't speak English too well."
As explained by Kim, the citizenship test is actually one of the biggest challenges among the older generation Korean immigrants. While the test may be as simple as a driving test for those who are already fluent in English, the challenge of passing the test is daunting for first generation immigrant seniors.
Some have even postponed the submission of their applications for the citizenship over the fear of the test. "Citizenship interview and test both require understanding of certain terms that one doesn't often use in everyday life," said Jeong-hyeon Lee, who has been running a course to help those preparing for the citizenship test in Orange County for nine years.
"Listening comprehension is the biggest problem for the seniors," Lee added. "It's not even that they don't know the answer. They often fail to understand the question."
Hence, many test takers have chosen to simply memorize potential questions and answers. Buena Park resident Lee, who wished to keep his first name anonymous (no relation to Jeong-hyeon Lee), said he reviewed 100 questions for more than 50 times before finally taking the exam recently.
"My homework from the class in Garden Grove was to write out 100 test questions and answers every week," Lee said. "I did that for a few months, so the test wasn't too hard."
Among seniors in the U.S., the rate of passing the citizenship test is lower than the average population by 10 percent, according to the data provided by United States Citizenship and Immigration Services (USCIS).
While 97.7 percent of those aged between 18 to 24 and 97.6% among 25 to 39-year-olds passed the test, only 89.4 percent of 50 to 64-year-olds while the rate was even lower at 83.2 percent for those over 65.
The U.S. citizenship has been designated as the fifth most difficult citizenship to obtain in comparison to the rest of the world, according to financial news website Investopedia. The website explained that test questions regarding American history may be difficult for some people.
By Soo Yeon Oh