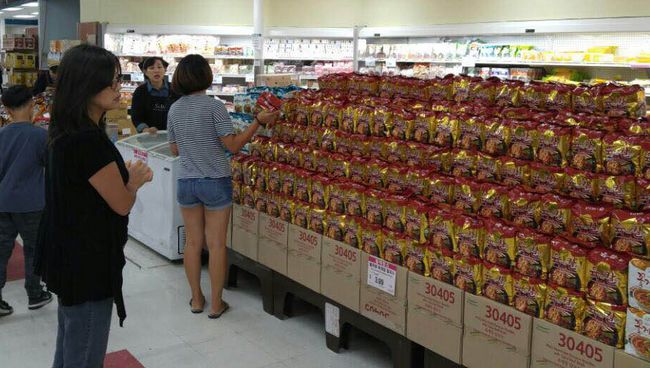 Packaged ramen products, which has long been a popular food among Koreans, has reached a new frontier. The soup base for many of the new packaged ramen products are traditional Korean stews.
At various Korean markets in Los Angeles Koreatown, packaged yukgaejang (spicy meat stew) ramen has been a big hit among customers in recent weeks. Yukgaejang Kalgooksoo (Yukal Ramen), manufactured by Pulmuone, includes unique ingredients for a Korean sou-based food, such as Vietnamese peppers and beef brisket.
"Yukgaejang Kalgooksoo became popular through social media and is now one of the most popular items," said Galleria Market manager John Yoon. "It sold out only days after the release."
In a few weeks, budae-jjigae (spicy sausage soup) ramen will also be released by Nongshim.
"The reason behind the popularity of packaged ramen with traditional Korean soup-bases is the familiarity," said Nongshim America marketing director Woo-jin Jang. [The spicy sausage soup] is currently going through the FDA review and could be available as early as next month."
Aside from ramen, packaged udon has also been selling rapidly at Korean markets.
By Sung Yeon Lee