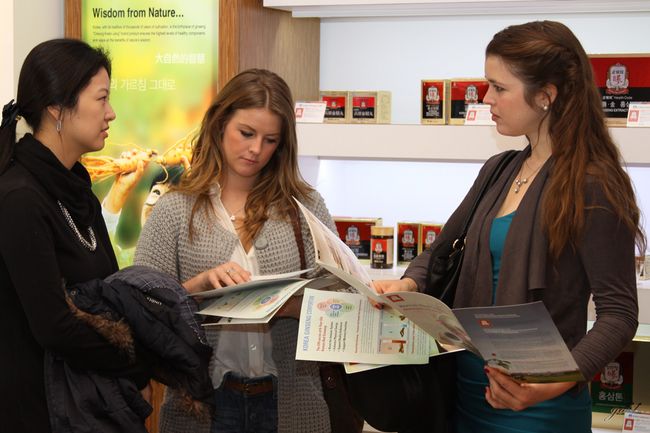 Herbal medicine and teas from South Korea have joined in on the Hallyu (literally translates to the Korean wave) as more and more foreign consumers are turning to them for healthier lifestyles.
Recently, it is no longer difficult to spot a non-Korean customer at various businesses selling medicines and herbs from South Korea.
After the likes of matrimony vines, omijas (red berries), longans (tropical fruits) and thistles raised in Korea were introduced through various television shows, even mainstream retailers, such as Whole Foods, began carrying the products.
"We've had non-Korean customers who came into our shop to buy Korean thistles after watching on television that it improves conditions of their hearts, livers and eyes," said Harbin Deer Antlers Trading manager Andrew Seo.
In recent data released by the Korea Trade Center L.A. (KOTRA LA), herbal medicine industry in the U.S. has been growing by 4 percent every year since 2010. Notably, vitamins and supplements containing herbs take up 75 percent of the items on sale.
"The knowledge about Korean medicine among non-Koreans has been expanding," said Best Deer Antlers Trading president Byung-mu So. "More customers now come in and buy ginsengs and red ginsengs after confirming that they were grown in Korea."
Furthermore, Korean Ginseng Corporation (KGC), a business that has been importing Korean ginsengs abroad for years, generated a revenue of $16 million this year compared to $6.8 million in 2012.
"Our growth has been visible over the last five years," said KGC's New York branch president Jin-beom Jang. "We've also been expanding our distribution channels. Our distribution this year is expected to generate $500,000 from Costco, $2 million from China and $500,000 from Vietnam."
Jaseng Center for Alternative Medicine, a Korean acupuncture facility in L.A., also added that it has seen an increase of non-Korean patients by about 10 percent this year.
"Korean medication in tablet forms are popular among foreign patients," said Jaseung Center's clinical director Woo-kyoung Lee. "Herbal medicines imported from China don't have a good reputation in the U.S., so we're making sure that ours are all directly imported from South Korea."
The common theory behind the rising popularity of Korean medicine is due to its cost-efficiency. Moreover, the demand for alternative medicine has been growing steadily.
"The image around Korean medicine is that it has little to no side effects," said KOTRA LA's international trade consultant Jong-woo Choi. "American consumers prefer medicines that clearly state its components. If Korean medicines can begin to incorporate these aspects, sales rate could soar even higher."
By Sung Yeon Lee