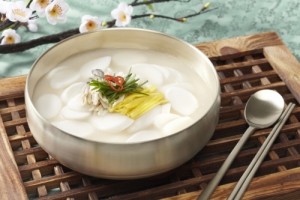 Just in time for Korean New Year (Seol nal)!
What is tteokguk? When do you eat it?
Tteokguk (떡국) is a traditional Korean rice cake soup eaten on the first day of each year to celebrate the new lunar year – this year seol nal falls on Monday, February 8th -. You would become a year older for each bowl of soup you eat each year. Thus, the clear broth soup has become an icon of the important Korean holiday.
Apart from its deep-rooted cultural significance, tteokguk is eaten throughout the year, because it is not only delicious but also relatively easy to make.
What do you eat tteokguk with?
Rice cake soup can be eaten by itself or with a side of kimchi. The combination of white and red – or soft gentle flavor versus flaming spicy flavor – actually compliment each other very well.
You could also partner tteokguk with green onion pancake (pajeon) I introduced earlier.
Any variations to tteokguk?
As with most dishes, tteokguk has various versions that will suit your unique taste buds. My personal favorite is to add vegetable pot stickers to the bowl! It adds extra flavor and texture to the soup.
Feel free to add an egg, too, depending on your personal taste. You could also toss in multiple types of rice cake (thinly sliced cylindrical ones, three dimensional ones, etc.) for a dynamic, versatile dish. Some people like to add seaweed for an extra crunch with each bite.
Try this simple recipe in spirit of the new lunar year!
By Hajin Lily Yi