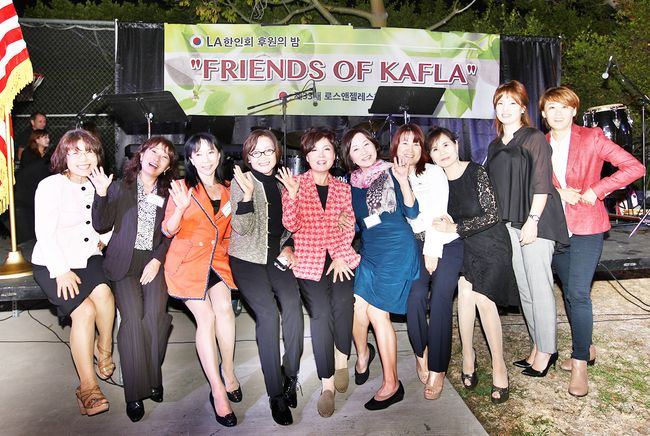 Young-song Lee, the former president of National Unification Advisory Council's L.A. chapter, stepped on to the stage at the Korean American Federation of L.A.'s (KAFLA) annual Support Day last Thursday. "As I was making my way here, a part of me is feeling depressed," he said.
"But there is also another side of me that's feeling hopeful," added Lee, who is 73. "I looked around, and it seems like I'm the oldest man here! We've changed entirely as an organization. There's so much energy here thanks to the new 1.5 and 2nd generation Korean-Americans members."
As Lee described, the event depicted the big change that has occurred at KAFLA in recent years. At the first big event held under its chairwoman Laura Jeon, first generation Korean-American members were a rarity. Instead, the majority of the 100 attendees at the event were Korean-American members who either grew up (1.5 generation) or were born (2nd generation) in the U.S.
Even the event's casual vibe was much different from the traditional, throwback style KAFLA meetings of the past. There was a live band playing music, while the event kicked off without the conventional congratulatory messages. KAFLA president James Ahn has apparently turned down a proposal to deliver a keynote speech.
"I usually love speaking on the microphone," said Ahn. "But we need to start going away from the typically traditional way of hosting events as an organization. We need a generational shift in every aspect."
In addition, KAFLA took a frugal approach in hosting the event. The board of directors volunteered to make food arrangements by cooking and decorating the dining area themselves.
Chairwoman Jeon stressed that the KAFLA will now dedicate itself more to develop the future generations of Korean-America. She also added that while the organization will try to cut needless costs, it must actively "invest to develop the people" as she continues her efforts to bridge the gap between the older and younger generations.
The event raised more than $100,000 amid Jeon's promise to create a financially sustainable organization, according to KAFLA.
"KAFLA is definitely changing," said L.A. Korean Festival Organization chief director Gap-je Cho. "It's evident that the organization is going through a generational shift. The way the event was arranged was refreshing. It's about time the first generation members take on the role of advisors as the younger generation replace them."
By Won Young Lee