Jamison Services, Los Angeles Koreatown's largest realty firm, is relentless with taking on development projects, as it continues to work on residential properties.
Per Korea Daily's sources based on Jamison's recent announcement, the realty firm has either recently completed or is planning to begin constructions for 21 apartments that combine for over 6,000 units.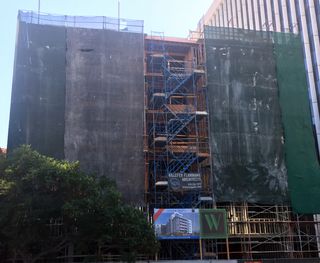 The number of units to be available for the Pierce National Life Building on Wilshire and Western, which will soon be converted into an apartment from a traditional office building, is not yet known. However, a similar 12-story office building nearby was recently converted into a 200-unit apartment.
Assuming that the Pierce National Life Building will go through the similar renovation, it is believed that Jamison's 21 projects will build more than 6,100 units in Koreatown and Downtown.
Among Jamison's 21 projects, 16 are completely new constructions, while the remaining five are commercial-to-residential redevelopments.
The tallest building Jamison is working on is the 37-story, 506-unit residential and commercial tower in front of the Wilshire Park Place Building (3700 W. Wilshire Blvd., see photo) on Wilshire and Serrano.
Jamison is also set to begin construction, which will require demolish the parking structure of Wilshire Financial Tower (3600 Wilshire Blvd.) and replacing it with a pair of 23-story buildings, which will have 760 units between them after completion.
The recently finished 641-unit apartment on Normandie and Mariposa, as well as the 31-story residential and commercial building on Wilshire and Hoover are also among Jamison's many projects.
Noticeably, the majority of Jamison's projects are residential properties, such as apartments. With an exception of the 648-unit condo "Circa" in Downtown L.A., the rest of Jamison's constructions are either brand new apartments or redevelopment projects of turning office properties into residential ones.
Besides Circa and another 122-unit apartment near McArthur Park, 19 of Jamison's projects are concentrated in Koreatown. In Koreatown alone, Jamison is responsible for at least 5,400 units, making the neighborhood home to 87 percent of all units it owns.
There are both hopeful and concerned voices over Jamison's active engagement with redeveloping Koreatown. On the one side, Jamison's efforts are praised as a contribution to driving up the quality of life in Koreatown.
On the other, critics are pointing to traffic congestion, lack of rest areas and increase of crime rate in Koreatown that came with the increasing number of large constructions across the neighborhood.
Also, there is an increasing doubt among real estate experts and advocacy groups over whether Koreatown is prepared to take in so many residents. Even assuming that Jamison's new units will host an average household of just two people, Koreatown will see an increase of at least 10,000 in its population. Traffic in and around Koreatown, which has been dreadful as is, will likely be even worse.
However, supporters of Koreatown redevelopment stress that aging buildings in the neighborhood must be replaced sooner rather than later.
"Koreatown looks old in comparison to Downtown," said one anonymous source. "While lack of city planning must be taken into consideration, it is imperative that Koreatown is upgraded. The increase in population will provide more business opportunities. It's important that Koreatown continues to go through redevelopment."
CAPTION: Jamison Services is already working on or plans to build 21 projects in and around L.A. Koreatown. Apartment on Wilshire and Harvard, 226-unit residential and Commercial property on Olympic and Kingsley, 31-story residential tower on Wilshire and Hoover and 228-unit apartment on Wilshire and Wilton.
By Sung Cheol Jin