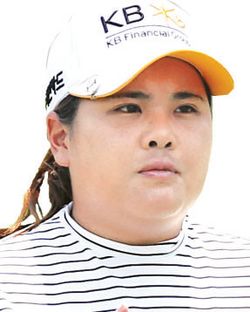 Pro golfer Inbee Park (27) will not participate in the Meijer LPGA Classic because of her thumb injury.
Galaxia SM, Park's management company, said on the 13th that "Park has decided not to play at the Meijer LPGA Classic, which will be in Michigan. We are also not sure about when her next participation will be, so we will decide as soon as she completely recovers from her thumb injury".
Last week, Park was named as the youngest LPGA player to qualify for Tour Hall of Fame, but she soon missed cut as a result of her left thumb injury.
One of the officials said that "Her current condition is severe that her injury will only become worse if she continues playing. For a longer time of recovery, we have decided that she won't participate this week".
In addition, it is known to be unsure whether she will participate in 2016 UL International Crown next month. She was announced as one of the four Korean players along with Sei-young Kim (23), In-gee Chun (22), and Hee-young Yang (27), but because of her injury, her participation is not confirmed yet.
Original document available at http://www.koreadaily.com/news/read.asp?page=8&branch=NEWS&source=LA&category=&art_id=4349705
Translated by Audrey Joung