Entering Tatsu, you will notice two things – its high-tech themed geometric ceiling and iPads that are waiting to take your order. At Tatsu, Japanese ramen shops' traditional machinery ordering is re-created with a modern twist.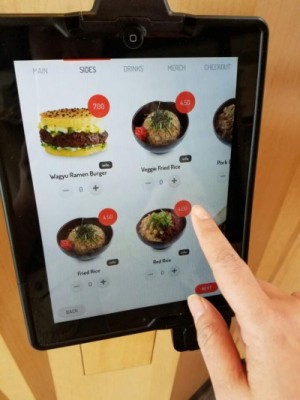 Ordering process is pretty simple. After choosing between to-go and dine-in options, you can choose from seven ramen options, followed by customizations including level of spiciness, kind of meat, amount of garlic and green onion, as well as side dishes to add onto your order. When a series of choices is done, you can make a payment on the iPad and server will bring out your customized ramen as quickly as in five minutes.
Customers at Tatsu find the machinery ordering system easy and quick. Without requesting for customizations, customers can make their choices more easily as they are given an option at a time. Since servers don't have to worry about taking orders or helping with payments, preparation time for food is shortened as well.
At Tatsu, you are given a total control over your bowl in a quicker, easier, and more efficient way.
Original document available from www.koreadaily.com/news/read.asp?page=6&branch=LA&source=LA&category=economy&art_id=4181207
Translated by Heewon Kim