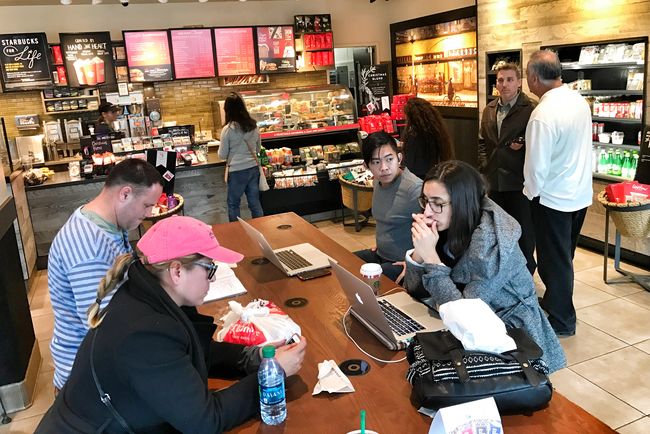 Among major businesses in Los Angeles Koreatown, coffee shops reach their busiest work hours in the morning from 8 to 9 a.m. or evenings from 7 to 9 p.m., according to the "store visits" data compiled by Google.
On the contrary, most dine-in restaurants hit peak hours on Friday nights. Other busy days for Koreatown restaurants after Fridays are Tuesdays, Thursdays and Saturdays (in that particular order).
The Google data is based on the location history tracked by the visitors' Android smartphones. The data-driven analysis compiles the number of Android smartphone users who visited each business by every hour. It was originally created to provide a better understanding for consumers who wish to avoid congestion.
About 20 to 25 percent of the customers at cafes in Koreatown visited the businesses from 7 to 8 a.m., presumably before their work hours. Approximately 12 to 15 percent of the customers flocked in from 2 to 4 p.m., while weekends were relatively slow.
"Thursdays and Fridays are especially busy," said Jennifer Kim, a manager at one Koreatown coffee shop. "There are obviously customers who stop by to grab coffee or other beverages, but the café is usually a place where people have various gatherings and meetings." Kim added that most customers use the wireless Internet at the café.
Cafes in residential areas usually remain busy deep into evenings, but the ones located in business districts are focused on serving customers who flock in during mornings and lunchtimes.
"Patterns like these vary depending on the time of the year," said a café owner in Koreatown. "The challenge for business owners is to be able to predict these trends and preparing to utilize the peak hours efficiently."
For restaurants, Friday evening is an undisputed primetime. Some businesses even raked in up to 30 percent of their customers from 5 to 10 p.m. every Friday. Sunday evenings were the least crowded time for restaurants, as the time slot only managed an average of 3 to 5 percent of all customers.
"Customers begin flocking in early on Fridays," said one barbecue restaurant owner in Koreatown. "It's the busiest day of the week for us. There are times when I have to jump in and help the servers when one of our employees call in sick or something."
By Brian Choi