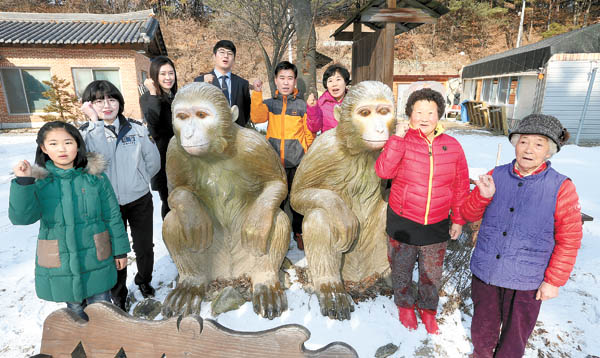 The dawn of a new year encourages people to make new plans and have hope, but those living in the so-called Golden Monkey Village located in Wonhak-dong, Geochang County, South Gyeongsang, are especially excited about the arrival of the Year of the Monkey.
The name of Wonhak-dong literally means a place where monkeys and cranes live in Chinese.
Monkeys are often associated with longevity and success in local legends.
"The monkey in the local legend is described as a golden one, and I believe we'll be blessed a lot this year," said Cheon Jeom-su, 48, a resident of Golden Money Village.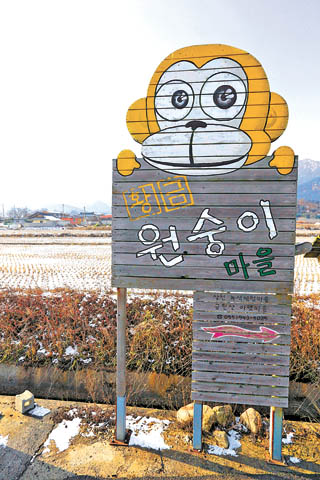 "I feel like everything will go well because it is the Year of the Monkey," said Han Sun-yi, 60, another resident.
The 12-year-old girl Shin Yi-song said, "My wish is to go on an airplane this year because I have never boarded one in my life."
Golden Monkey Village is nestled near Mount Geumwon, which is also often dubbed Golden Monkey Mountain.
The local legend says the golden light of golden monkeys on Mount Geumwon reached the palace of the Chinese emperor. Eventually, envoys from China stopped monkeys from coming and going by blocking the holes in the rocks on Mount Geumwon.
"This village has been described as a paradise in which monkeys and cranes dwell," said Jeong Si-kyun, the principal of Jusang Elementary School. Jeong also works as a researcher of the local history of the region.
Wonhak-dong got its nickname in 2009. Before that, it was called Sangcheon Village.
Changing the name of the village was the idea of Geochang County because the village was too old and small to survive on farming alone, as only 128 people live there.
It cost 200 million won ($168,000) to install signboards and monkey statutes here and there around the village.
The village is currently holding an ice festival where people can enjoy various ice sculptures, including some in the shape of monkeys.
The festival runs through this month. Hands-on activities such as pounding rice cake are also available.
For more information about this village and the ice festival, call (055) 943-5025.
BY WE SUNG-WOOK [so@joongang.co.kr]