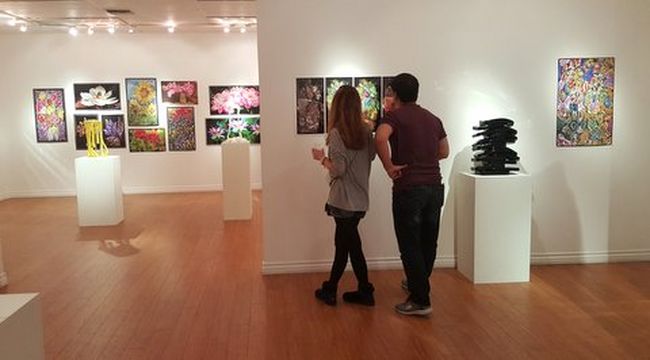 Korean-run art galleries in Southern California are on an upward trend to transform their services in a desperate attempt to survive amid the longstanding recession.
Only a couple of years ago, there were easily more than 15 Korean-owned art galleries within Los Angeles, including Cmay Gallery, Baik Art, Pyo Gallery, Lee & Lee Gallery, Gallery Western, Gallery CLU and Yoon's Space, all of which still remain in business.
Since then, however, at least five galleries—Andrewshire Gallery, Sabina Lee Gallery, Sara Lee Gallery and Park Avenue Gallery—have closed down. Those involved in the art business say that galleries on the West Coast are the first ones to take the hit as the ones based in Miami and New York are still somewhat viable.
"Artwork that would sell for more than $10,000 were common in the past," said a gallery official, who wished to remain anonymous. "People who look for expensive artwork are virtually non-existent now, even though we've sold pieces for over $10,000 for years until recently."
As the struggle becomes more palpable than ever, galleries are transforming their business models to make ends meet for their survival.
Pyo Gallery has recently launched a "rental" business, offering corporations, hotels and banks to loan its artwork to display in their upscale lobbies on a set fee. The deal allows the client to exchange the artwork in the lobby every three to six months.
For the clients, it is an affordable way to add visual appeal to their businesses, while the gallery can utilize the rental service to generate consistent cash flow.
"We're running gallery exhibitions, art sales and rental business simultaneously," said Pyo Gallery art director Grace Min. "We're partnered by nonprofit organization Now Art LA as we're installing artworks in various areas of the city, such as Pershing Square in Downtown L.A., Santa Monica Public Art."
Some galleries are now offering interior shops, art courses or even cafes. Most notably, Andrewshire Gallery best exemplifies the business model after successfully transitioning from a traditional gallery to a café displaying artwork.
The name has since changed to Document Coffee Bar, but the venue continues to host art exhibitions and performances on a regular basis to distinguish itself from run of the mill coffee shops.
Likewise, Pyo Gallery also plans to open an interior shop in Koreatown next month. The gallery plans to have not only paintings and interior accessories for sale.
Similarly, Lee & Lee Gallery offers a weekly art and music courses from three years ago. The fine art class, which began in 2013, has been vastly popular among students.
"A number of Korean-owned art galleries have closed and it's visible to see artists losing motivation," said Yoon's Space founder Jang Kyun Yoon. "So the Korean art industry in the U.S. are looking for alternate ways to bounce back."
By Sung Yeon Lee