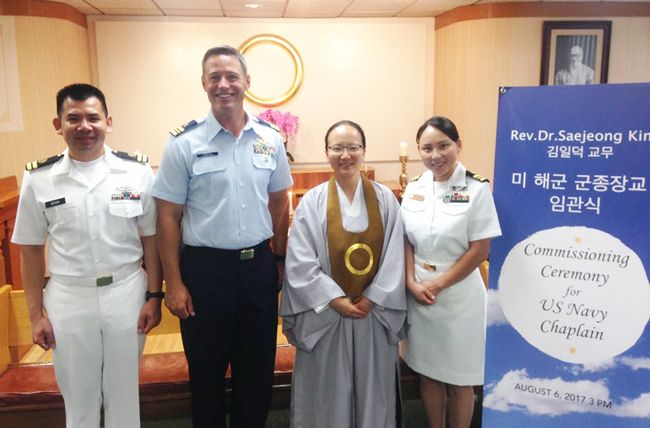 For the first time in the history of the United States' armed forces, a Korean-American female Rev. is set to launch her career as a religious leader.
Il-deok Kim has been commissioned as the captain of the reservist division within the American Navy recently. This is the first time an ethnic-Korean female was granted such a position. The event to celebrate the commission was held on Aug. 6 at the L.A. Won Buddhist Temple.
Kim is also the granddaughter of Dae-geo Kim, who led the Won Buddhist Temple in Korea for 33 years.
"The armed forces in the U.S. is starting to understand the importance of mindfulness to instill mental stability even though only a few practice Buddhism," said Kim. "I think I have many things to do to carry the responsibility of someone who looks after their mental health."
Born in Chicago, Kim actively practices Buddhism in North Carolina. She received her doctorate degree in South Korea and returned to the U.S. last year.
"There aren't many who practice Buddhism in the Navy, but I trust that Capt. Kim's diverse background, passion, and professionalism will be used to the Navy community's benefit," U.S. Coast Guard Lt. Jason DiPinto said.
Kim apparently went through nine months of strict screening process, physical tests, interviews and background check. Kim was offered to submit her application via LinkedIn last year.
"I was able to become the captain for my decade of experience at the Won Buddhist Temple as well as my doctorate degree," Kim said. "There will be a ceremony to celebrate my appointment before I am assigned a specific department."
There are apparently around 1,100 chaplains in the U.S. armed forces, many of whom are practicing Christianity.
"It is extremely rare for an ethnically Asian female to become a chaplain after just nine months," said the Navy. "That Kim is practicing Buddhism also gives the appointment a special meaning."
Meanwhile, applicants can apply to become a chaplain once they are 47 or older. Only 10 of them are Buddhists. Only two from the Navy are practicing Buddhism. The Buddhist population rate of the entire armed forces is approximately around 1.5 percent.