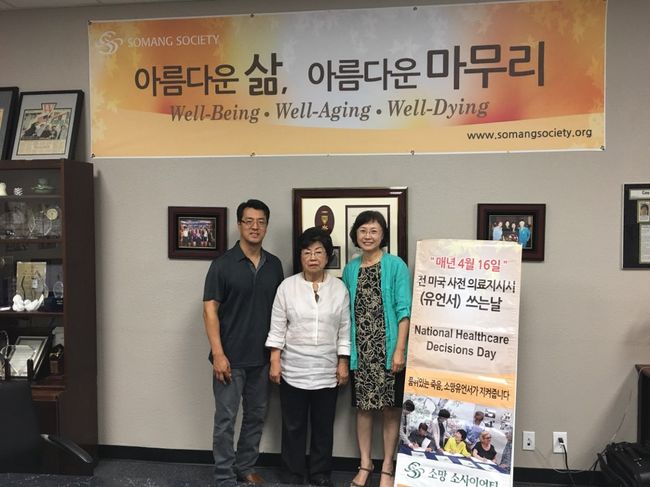 A part of the paradigm shift for today's generation has been seeking a higher quality of life over striving strictly for financial wealth, but the concept of "well dying" is now among the emerging, in-demand ways for people prepare for their inevitable deaths.
The world, including the United States, is aging. An average age of the U.S. population today is higher than ever at 37.8 in comparison to 29.5 in 1970, according to the Central Intelligence Agency's The World Factbook.
That aging process came with the change that one can now also live longer than ever before as an average American died at age 79 as of 2015, whereas the figure in 1970 was 70. As healthier lifestyles have contributed to such a longevity, there is now a widely available option for people to brace themselves for their demise in the most suitable way for their respective needs and wants.
In the center of that trend is Southern California-based Somang Society, which aims to promote and educate people about the process of aging, as well as building a village for the elderly to "enjoy and share beautiful departure," as described on its website.
"Our program was inspired by someone close to me, who suddenly passed away due to a car accident," said Somang Society chief executive Boon-ja Yoo. "Anyone can die at any given moment regardless of how old they are. It's imperative that they go through the process of preparing for their deaths in advance. Choosing to die well over getting killed is a decision that one must make."
Established in 2007, Somang Society promotes the slogan, "Well Being, Well Aging, Well Dying." The organization's program includes education on aging and death, assistance with writing a will, organ donation, prevention of dementia and Alzheimer's and promoting the cause for minimizing the cost for one's own funeral.
"I felt that writing and registering a will was necessary since it gives my family a clear guidance on how they should manage the end of my life at a time when I may no longer be able to express my own desires," said 63-year-old Deborah Lee, who documented her will and agreed to donate her organs after death. "Aside from finances, I even wrote the flower and hymn I'd like to see at my funeral."
As did Lee, the members of Somang Society can fill out the Advance Healthcare Directive, a document that describes their wishes in regards to how they want the end of their lives to be handled in case they may no longer be conscious due to an illness. Through it, the applicant to make various decisions on the types of medical treatment, funeral arrangements and even a note to their friends and family.
Throughout its nine-year existence, Somang Society has received about 12,000 Advance Healthcare Directive applications while holding 152 seminars to introduce their programs to the public. The number of organ donors as of today is 1,606.
"I felt that preparing for my death is something that needed to be done," said Byung-hee Kim, a 76-year-old who recently submitted her Advance Healthcare Directive.
"To become immobilized in bed without preparation or direction on how I want my life to be handled would be a big burden to my family. That's why I've asked my family not to prolong my life in case I end up suffering an incurable illness. I also registered to become an organ donor as my way of giving back to everything I've been given during my lifetime."
By Byong Il Kim