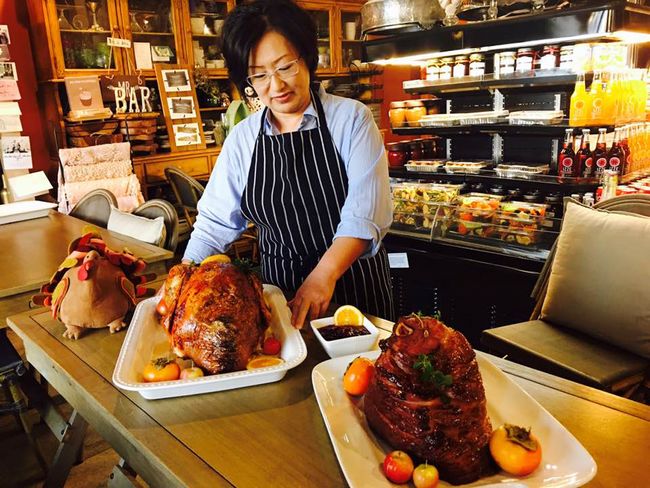 As Thanksgiving Day nears, food catering services are in heavy demand as orders from various religious, business and community organizations are pouring in with many Korean-Americans getting a head start to prepare for the big holiday.
Banchan a la Carte, a L.A. Koreatown-based catering business, has been taking orders for its "Special Turkey Menu" since the beginning of November. In the first week alone, 25 orders have been made. Most of the orders are from apparel businesses in downtown's jobber market or churches. Orders from volunteer organizations that plan to visit senior homes and medical facilities are also increasing in recent days.
"We're taking orders for pre-ordered 200 turkeys," said Banchan a la Carte president Jane Jang. "Aside from various organizations, orders are coming in from office districts as well. Some restaurants are ordering precooked turkey to make it their daily special on Thanksgiving Day."
Jang added that 200 orders were made during the same period last year, 80 of which were group orders while 120 were personal.
L.A Catering is going through a similar period. Orders made to Garden Grove-based L.A. Catering are primarily from churches. The number of orders from churches has already reached 100.
"Turkey orders usually peak in the second week of November," said L.A. Catering president Hong-sang Kang. "We even provide delivery to Orange County, La Crescenta and Glendale. As soon as we began advertising for our Thanksgiving Dinner, we received around 30 orders."
"I ordered a set of turkey to share with my coworkers since we all have to work on the following day after Thanksgiving," said David Kim, who is running a distribution company near L.A. "I want to create a Thanksgiving vibe at our workplace."
It is also common for food items other than turkey to be in heavier demand around Thanksgiving. One of those items is galbijjim (steamed short ribs).
"Beef prices have gone up this year," said Michelle Cho, who is running a Korean cooking class in Fullerton. "So customers are ordering sataejjim (steamed braised beef) instead. Sweet and sour chicken, roast beef and ham are also popular items."
By Sung Yeon Lee