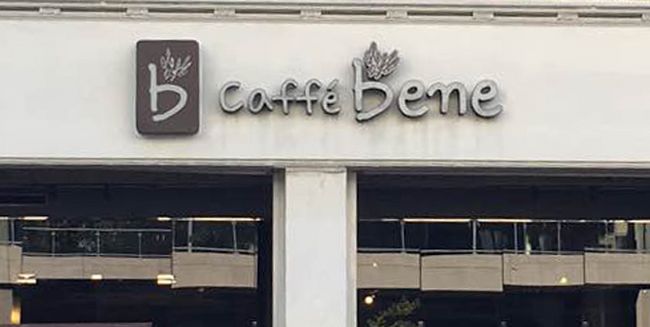 The largest South Korean coffee franchise in the United States is seemingly heading towards turmoil after its West Coast office stalled its operation indefinitely.
Founded in 2010 in the U.S., Caffébene's business is coming to a halt, as a host of employees have resigned from the company. To make matters even more complicated, Caffébene's franchise license in Southern California has been suspended since April.
When the Korea Daily visited Caffébene's West Coast office, which is located near Los Angeles Koreatown, the property had already been closed. Although the staff there at one point reached 12 people, it has been revealed that the only remaining employee at the office is on person, who is the chief director for the West Coast franchises.
As Caffébene's management is facing uncertain future, a group of people who have been hit the hardest are the proprietary owners of each franchise in the area.
"I am feeling anxious after hearing the rumors about Caffébene," said one owner. "I'm hearing that it's not just the West Coast franchises that are affected. There are bad rumors about Caffébene's entire business in the U.S. as a whole."
Notably, the Caffébene franchises in the Western region are struggling to cope as they have not been receiving supplies sufficiently. Revenue has been decreasing in recent months as well. Some Caffébene franchises have already started supplying themselves with ground coffee as communication with the headquarters is becoming increasingly difficult.
In some cases, the franchises that were set to open in the foreseeable future have stalled their plans due to lack of support from the headquarters.
"I've already spent about $220,000 in franchise contract and also for construction," said one owner who purchased Caffébene's license. "I've already signed a 10-year lease, but I haven't even opened the business yet.
The problem with the business lease is becoming serious, because I still have to pay for it every month. I can't even get a hold of someone at the office, while I'm hearing that the franchises even on the East Coast are closing down. I'm feeling really anxious. I have no idea what to do."
Caffébene USA has told some newly signed owners that it plans to refund them, but no action has been taken as of today.
Even Caffébene's employees who left the company are complaining about their losses. "Expenditures on business trips and gas had to be covered on my own," said one former employee. "I've already made a request to the headquarters to provide reimbursements, but the reality is that I haven't even been paid properly on my wages. They've been ignoring my requests so far."
"We've had poor management of our business over the last five years," said Yoon-yong Lee, Caffébene's overseas president. "The cash flow right now is not so good, but we're set to receive a portion of the $17 million that we're due to collect from the investment groups. Once we receive the funds, we will distribute it to the franchise owners."
Lee added that the suspension of the franchise license last April was caused by an "individual mistake of an employee," and that he plans to normalize it as soon as possible.
By Sung Yeon Lee