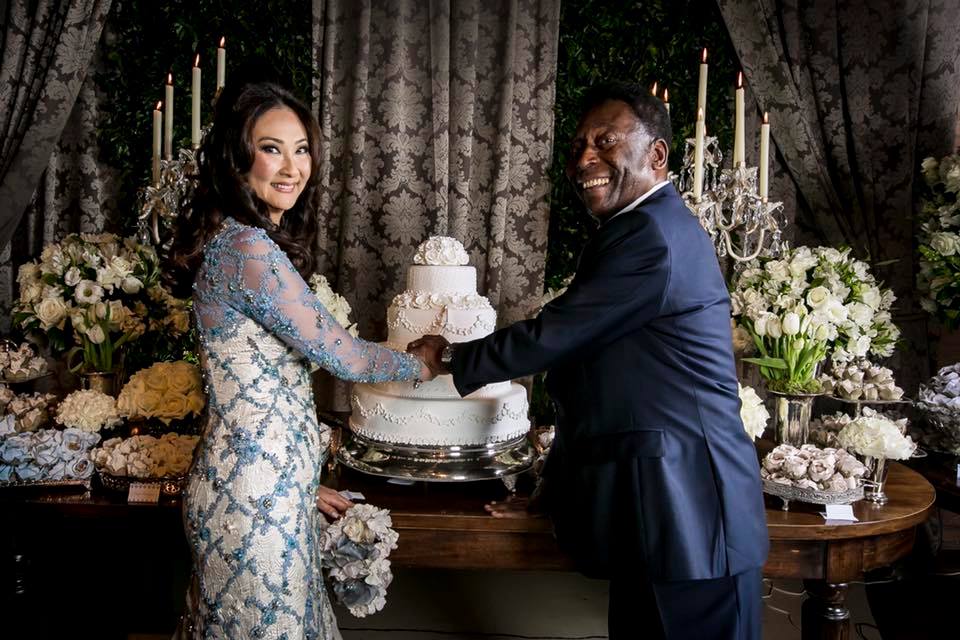 Brazil's soccer legend Pele (76) just got married with a 50-year-old businesswoman, Marcia Cibele Aoki. According to O Estado de S. Paulo newspaper, Pele had a private wedding ceremony in Sao Paulo with Aoki on the 9th. On his official Facebook page, Pele shared a photo of their wedding with a caption of 'Amor definitivo', which means 'true love'. About 120 guests attended their wedding ceremony including both of their relatives and friends.
The couple had first met in 2008 in New York City, and started developing their love relationship in 2010. In 2012, Pele introduced Aoki as his girlfriend for the first time at a FIFA event, which was held in Monaco. Since that event, Aoki have been appearing at official events with Pele at soccer fields and parties. Recently, Pele's health has been in poor conditions, and Aoki followed him to the hospital. Pele have received surgeries for kidney stones, prostatectomy, and spines, and he is currently receiving outpatient treatment.
This marriage is Pele's third one. His first marriage was with Rosemeri dos Reis Cholbi in 1966. He and Cholbi divorced in 1982, and they have a son and two daughters. In 1994, Pele married for the second time with Assiria Nascimento, but ended up with a divorce in 2008. They have twin sons.
Pele, who had given Brazil the World Cup champion trophy third times, is called the legend of soccer. He had a debut in Brazil's professional soccer club Santos FC in 1956, and he have made a total of 1281 goals in the 1363 games he played until 1977 when he retired. In 1957, Pele was selected in Brazil national team, and he made 77 goals during the 91 international competitions.
Original article available at http://www.koreadaily.com/news/read.asp?art_id=4422775
Translated by Audrey Joung