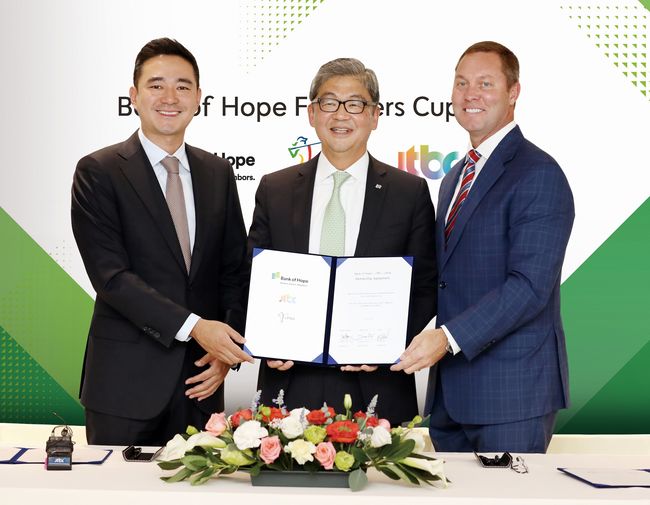 For the first time ever, the LPGA will be sponsored by a Korean-American corporation after signing a three-year deal with Bank of Hope, an L.A.-based super regional bank.
In a press conference held in Seoul, South Korea on Monday, Bank of Hope announced that it will sponsor LPGA's Founders Cup for the next three years. Established in 2011, the Founders Cup is recognized as one of the main events of the LPGA Tour, as it was launched by 13 of the organization's founding members. Korean golfers Hyo-joo Kim and Sei-young Kim won the tournament in 2015 and 2016, respectively.
No other Korean-American business has sponsored an LPGA event before Bank of Hope's recently announced deal.
By sponsoring the LPGA, Bank of Hope now stands alongside South Korean businesses that have supported women's golf for years, including Kia, Hana Bank and Lotte Group. Bank of Hope also expects that its preparation to enter the South Korean market will receive a significant boost as sponsoring the LPGA is expected to raise its visibility.
Bank of Hope president Kevin Kim attended the press conference, as well as LPGA commissioner Mike Whan.
"We feel responsible to contribute to our community by learning the lessons left behind by the LPGA's founders who've tried their best for women's golf," said Kim. "We're proud to become the first and only Korean-American business to sponsor the LPGA."
Whan said that he hopes Bank of Hope's involvement will promote the LPGA even further and create a wider gateway for more female golfers to pursue their dreams.
"It's important to carry the legacy of the LPGA's 13 founding members who've planted hopes in women's golf from scratch," he said. "Bank of Hope is giving an opportunity to the golfers to hope and dream. This is a step into a brighter future."
The Founders Cup, which will be held in Phoenix, Ariz. in March, will be aired live on JTBC and JTBC Golf.
From left to right; JTBC president Jeong-do Hong, Bank of Hope president Kevin Kim and LPGA commissioner Mike Whan at the press conference in Seoul, South Korea on Monday to sign a three-year sponsorship deal inside of JTBC's headquarter.
By Sung Cheol Jin