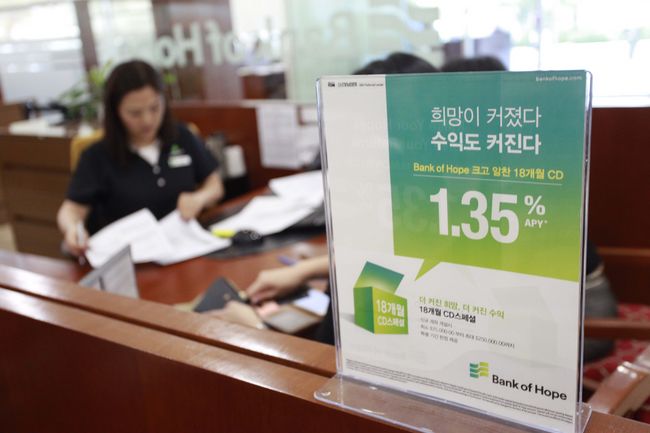 Los Angeles Koreatown-based banks are making an incessant effort to entice customers as a response to Bank of Hope, which launched less than two weeks ago as the first ever Korean-American super regional bank in the country.
Bank of Hope, which began its service on July 30 after the merger of Koreatown's two household financial institutions in BBCN Bancorp and Wilshire Bancorp, has already served as a sign of intimidation to its rival banks.
Bank of Hope's total assets reach $13.2 billion, which makes it the sixth largest bank that is headquartered in Los Angeles, and its launching has triggered other prominent banks based in Koreatown to find ways to create an edge amid the fierce competition to attract customers.
Along with the badge of honor for becoming the biggest bank in Koreatown, Bank of Hope is offering a variety of deals to deviate itself from the rivals. The most notable offer is its 18-month 1.35 percent interest rate on certificate of deposits, a product sold to customers that is similar to a savings account, which ensures a risk free investment.
Hanmi Bank, Koreatown's second largest financial institution, has since come up with enticing deals of their own, highlighted by a $2,000 packaging fee exemption on small business (SBA) loans, an offer that aligns pertinently with its current slogan, "Bank on Your Dreams," for working class clients.
"An exemption of $2,000 on packaging fee essentially means that there is no fee at all," said a Hanmi Bank official, who wished to remain anonymous. "We are going to promote this offer for the next six months. After that, we will carry the momentum with a new deal for a different product."
In addition to its new SBA loan deal, Hanmi Bank also held a customer appreciation week in its Garden Grove-Brookhurst and Cerritos-Artesia branches.
Observers say that Hanmi Bank's active pursuit of new customers is an answer to Bank of Hope, as the announcement of its SBA deal coincides with their rival's new start.
"Hanmi [Bank] is far behind Bank of Hope in terms of its size," said one Koreatown bank official, who also remained to be anonymous. "That's why it's important for them to show that they can't fall behind even in its marketing efforts. It's conceivable to think that the competition between the two banks will trickle down to other Korean banks."
Case in point, other smaller-scale banks in Koreatown are also attempting to provide a solution to stay relevant in the competition. Commonwealth Business Bank began a newly developed mobile banking program targeted for business owners, while Pacific City Bank recently completed a capital increase of $15.3 million to set itself up for further expansion.
By Sang Woo Park