If you're a first-timer to Los Angeles Koreatown, you may have no idea where to start with among so many options for food and entertainment. If you don't feel like wandering around K-town, how about spending your day at Madang Mall? You can explore assorted food and entertainment options without having to worry about the two sore spots of Koreatown – parking and walking.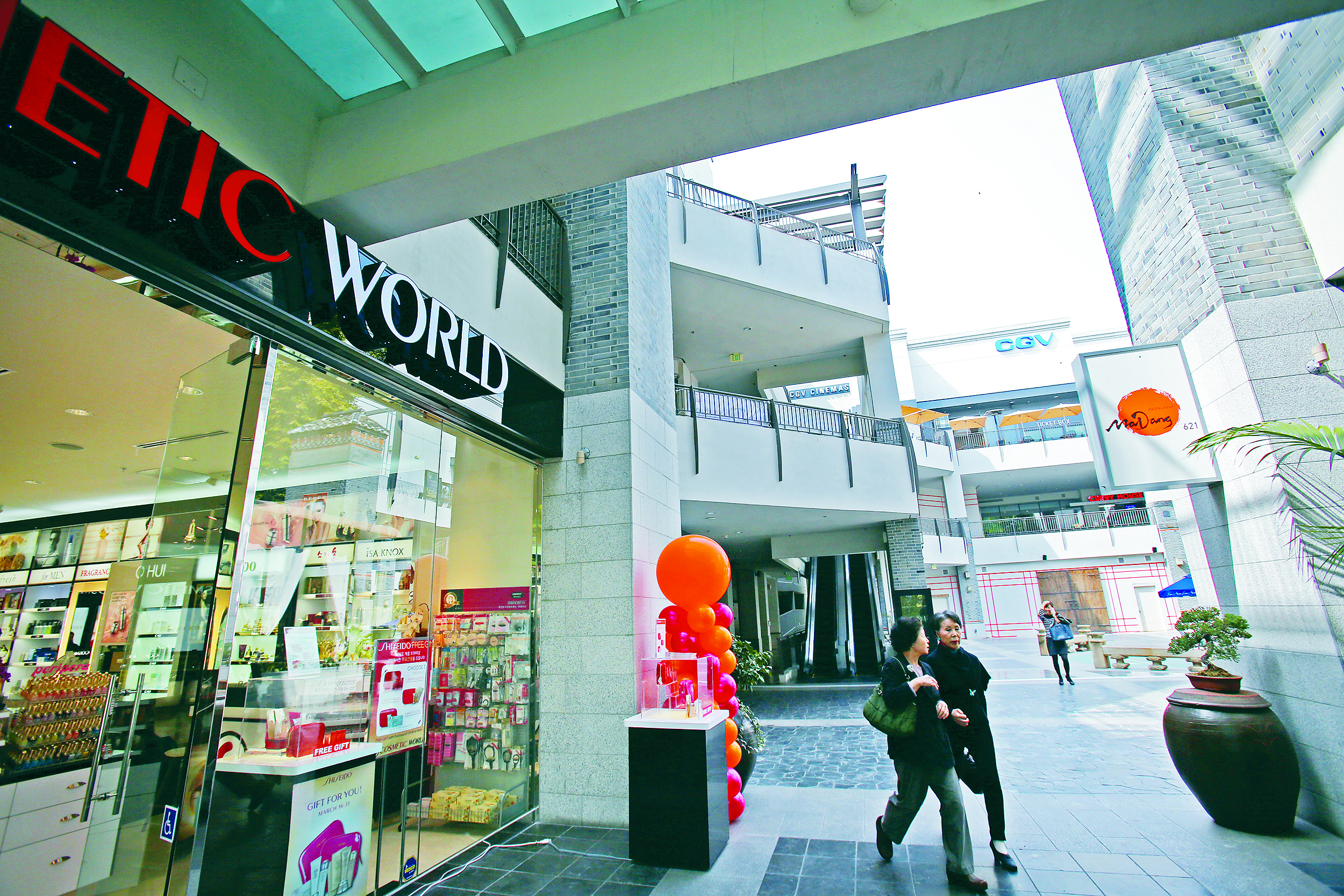 10:30 am – CGV
Start your day watching a movie! CGV at Madang is the first US branch of the biggest South Korean multiplex chain, CJ CGV. If you're interested in Korean films, or if you're just a movie fan in general, CGV is the best place to watch them. Tailored to suit the diverse and artistically rich tastes of Angelenos, CGV at Madang presents a global spectrum of films, featuring Hollywood hits as well as spotlighting the burgeoning market of Asian motion pictures. Not only does it present popular Korean films, but CGV also shows popular Hollywood films with Korean subtitles, which is ideal if you or your companion are more comfortable with Korean language. Arrive early to watch at the early bird price – only $10!
12:30 pm – School Food Blooming Roll
You must be hungry after watching a movie so early. Let's head to School Food to satisfy your belly. School Food, located on the third floor of Madang Mall, is a place where you can find delectable bunsik. Bunsik is a term that refers to inexpensive Korean dishes available at snack houses. At School Food, various bunsik dishes are made modern and special – kimbap into various rolls like garlic bacon, fried shrimp, or spam, and creamy ddukbokki and spicy carbonara pasta-like ddukbokki. Classic bunsik combination won't fail you either. Try Combination Tok-Su-Nee to taste the classic combination of ddukbokki, sundae, and fried dumplings popular in Korea.
2:00 pm – It's Boba Time or Beard Papa
Even when you're full, dessert is a must. Let's grab a dessert from Boba Time or Beard Papa before having a walking tour of Madang Mall. From classic milk tea boba to creamy smoothies made with real whole fruits and freshly squeezed juice, you can taste a whole variation of drinks at Boba Time. If you prefer scoops rather than sips, try shaved ice topped fresh fruits or red bean.
Beard Papa is another grab-and-go dessert option available at Madang Mall. Enjoy freshly baked pastry shells filled with various flavors of custard cream – vanilla, dark chocolate, green tea, and more seasonal flavors like cookies & cream.
2:30 pm – H-Mart and Daiso Japan
With dessert in your hand, let's go (grocery) shopping! H-Mart is located on the basement of Madang Mall. As one of the biggest American chains of Korean/Asian supermarket, H-Mart offers a wide variety of Asian grocery items. Shop for fresh fruits, vegetables, seafood, and anything else needed to make delicious Korean dishes. You can also purchase prepared and packaged banchan like kimchi, as well as imported packaged foods from Korea. Don't forget to make stops to try free samples!
Daiso is another place to shop at Madang Mall. Originated in Japan, Daiso is a discount store where you can shop for unique Japanese housewares, imported snacks, beauty products, and gifts on a low budget.
4:30 pm – Aladdin Used Books
When you're done roaming H-Mart and Daiso, it's time to sit and calm yourself down at Aladdin Used Books. Aladdin is the first L.A. branch of the Korean used book chain of the same name. Although the majority of books here at Aladdin are in Korean, you can find a good collection of English books too. If you're a K-pop fan, try digging into the CD collection to find K-pop albums – you may end up finding some hidden gems!
6:00 pm – The Gangjung or Hansol Noodle
Let's wrap up your day at Madang Mall with a feast of Chi-Mc. Chi-Mc refers to a combination of fried chicken and beer popular in South Korea. At the Gangjung, you can taste and verify how fried chicken and beer are inseparable from each other. Hansol Noodle offers another dinner option in a quite contrasting atmosphere from that of the Gangjung – wooden details and soaring ceilings of Hansol Noodle creates an upscale ambiance. Although this place specializes in naengmyun, which is chewy buckwheat noodles served in a cold broth, other popular Korean dishes, including bibimbap, pajeon, and Korean bbq, are also available.
By Heewon Kim