Looking for something to munch on watching your favorite K-drama series? How about trying these Korean snacks? Use this short list to start your journey to the world of Korean snacks, because it's a big, big world where you want to explore.
5. Homerun Ball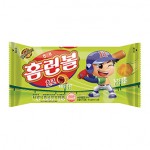 You won't believe that this cute and delish snack was created back in the 80s! These tiny cream puffs available in three flavors – chocolate, cheese, and cream – are many of Koreans' favorite snack since its birth in 1981. Petite pastry shells are filled with chocolate, sweet milk cream, or cream cheese to make flakey texture and rich sweetness – imagine a decent chocolate croissant made into a bite-size snack!
4. Honey Butter Chip


This sweet, slightly savory, and buttery snack has its own Wikipedia page for its crazy popularity in Korea. When this snack first came out in August 2014, it gained tremendous popularity, leading "Honey Butter Trend" in Korean snack market. Here is a fun fact that shows a piece of Honey Butter Craze in Korea: Honey Butter Chips were popular even for inflated prices on eBay-like website in Korea and among the sellers, some sold empty bags just for the SMELL.
3. Banana Flavored Snack (Banana Kick)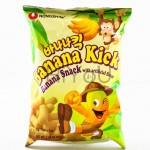 Following the Honey Butter Craze is banana flavored snacks. Before a series of recently launched banana-flavored snacks like Banana Choco Pie, Banana Mallang Cow, and Banana Mon Cher, there is the forefather named 'Banana Flavored Snack' (Banana Kick in Korea). Banana Flavored Snack (as you can probably guess) is a banana-flavored corn snack. If you expect the taste of rich banana from it, you will be disappointed. However, this crispy corn-snack with artificial banana flavor makes a delightful snack to munch on, both for its flavor and sound!
2. Ace Cracker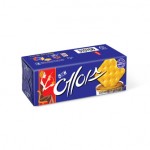 Ace is not a good solo player – after a couple of Ace Crackers your mouth will grow dry and you will be looking for water all over the place. However, with Ace's soul mate, a cup of Korean sweetened instant coffee named "mix coffee," Ace is ready to ace all the other snacks! However, carefully follow the direction below to eat Ace the right way.
a. Prepare your favorite "coffee mix." If you don't have a favorite, Maxim is the most common and popular one.
b. Make your coffee. Whatever you do, the only thing you have to keep in mind is to make it very sweet and strong. Best way to make it is to add very small amount of water – about 1/3 to half a cup?
c.  Carefully grab a piece of Ace on its tip and dip in the coffee, covering as much surface as possible.
d. Coat the cracker with coffee. Be careful not to soak it too long since Ace absorbs liquid very quickly and it will look and taste ugly when that happens.
e. Repeat the steps above until you empty the whole packet of Ace.
1. Pepero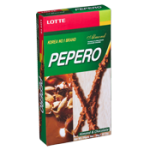 Korean version of Pocky, Pepero is a cookie stick dipped in various kinds of chocolate – milk chocolate, dark chocolate, strawberry chocolate, cookies and cream chocolate, almond chocolate, and even more! In Korea, there are more variety available, such as white chocolate and strawberry chocolate double dipped. Popularity of Pepero in Korea is maximized on every "Pepero Day," which is a day devoted to eat Peperos and exchanges Peperos to show affection for friends and loved ones. Every year on November 11th, supermarkets and convenient store are filled with Peperos, special editions of Peperos, and gift sets of Peperos (According to Consumer Report Korea, up to 30 percent of all annual Pepero sales occur within a week of Pepero Day). Yes, it's a way of marketing, but nonetheless, Peperos are actually delicious!
By Heewon Kim