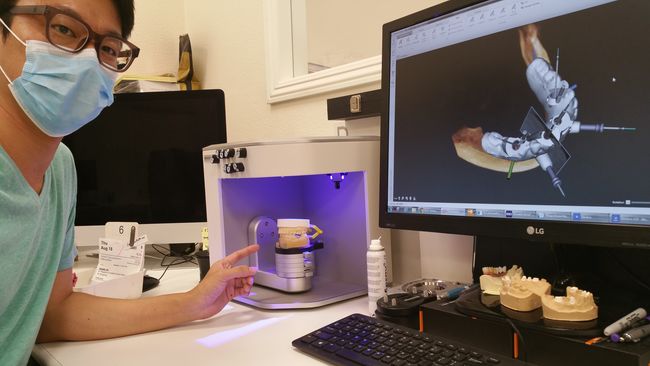 Computer-aided manufacturing devices and 3D printers have replaced engineers who once designed handmade dental implants in laboratories, capping off a shift in paradigm that is evidently making a radical change in the industry.
The dental technology industry, which once valued manual dexterity above all else, began adopting computer science based on information-driven manufacturing techniques and virtually forced companies that failed to keep up with the changes out of business.
Dental implants began being designed via 3D scanning and printing devices from three to four years ago as technology enabled the use of more diverse materials, including steel, aluminum, gold and silver, all of which allow developers to freely manufacture tailor-made implants depending on the conditions of each patient.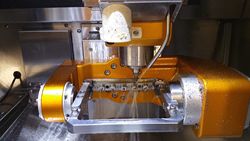 "It's correct to perceive this as a new opportunity," said Megabio Implant Solutions chief Young-dong Chung, who first entered the industry 35 years ago in South Korea. "There are still dental clinics that prefer manual manufacturing, but the demand for that will inevitably decrease continually."
Dental technology labs, once considered as one of the largest businesses for Korea-Americans, have decreased drastically in numbers from more than 900 during the mid to late 1990s to today's 200, according to industry experts.
Likewise, Megabio Implant Solutions has also replaced half of its dental technicians with "designers" who are adept with using 3D printing devices rather than their hands. It is worth noting that such replacements come at a cost as 3D scanners are sold from $20,000 to $30,000 while printer prices vary from $50,000 to $500,000.
However, the technological advancement within the dental technology industry has also triggered the 3D printing market value to skyrocket.
The market value for 3D printing within the dental industry today is at $1.6 billion with the figure likely to soar up to $3.7 billion by 2021, according to industry analyst firm SmarTech Publishing's recent study.
"Using 3D technology in this field was something that no one even imagined only five years ago," said In-sang Park, Megabio's computer-aided design and manufacturing manager. "The change has now affected at aspiring dental technicians are trained at their respective universities. It has created a new trend."
Additionally, South Korea's ever-developing technological advancement has also contributed to the changing times. Many of the industry's leading laboratories are using products manufactured in Korea, including Arum, a Korean-manufactured milling cutter recently introduced to the U.S. by Orange County-based Glidewell Dental Labs.
By Brian Choi