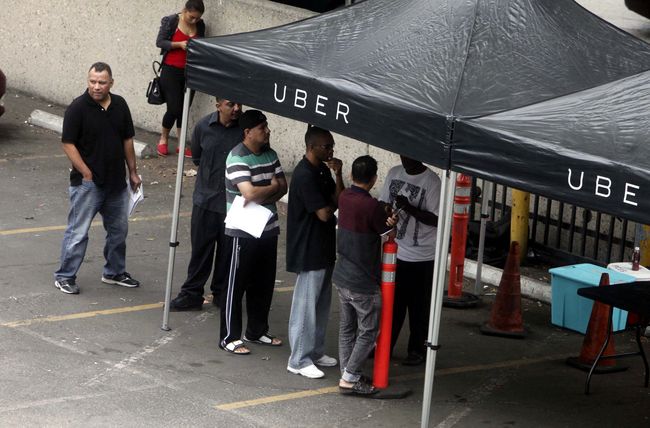 Anaheim resident Sun-cheol Kim, 71, didn't think twice about becoming a driver for popular ride-hailing service Lyft early last year as he figured that it is fairly an easy job that provides him with freedom to choose his own work hours.
A year and a half later, Kim is leaving Lyft after a series of revealing events which convinced him to believe that the job simply is not worth the unexpected rigors of his labor.
The final straw for Kim was the recent hit and run incident that left his vehicle severely damaged with no one to provide the necessary cost to repair the broken door.
"Someone hit my door and drove away after I dropped off a passenger," said Kim. "I contacted Lyft to report the accident, but the deductible was only $2,500. I guess I'll have to pay an additional $15,000 out of my own pocket to get my car repaired."
Although Lyft advertises to its potential employees that insurance is provided, there is a gray area in its coverage for times when no passenger is on board during the time of the accident.
In addition, Kim explained that his biggest disappointment while working as a Lyft driver was his income which often was a smaller sum than he initially expected.
Uber, another leading ride-hailing service, openly advertises that each of its drivers earns "up to $15 to $20 an hour." However, many drivers argue their maximum monthly earning tops out at approximately $3,000 even if they were to work intensively for 10 to 12 hours in the most traffic-heavy areas of the city during a time that spans evening and midnight.
In a survey conducted by SFGate last October, an Uber driver on average needed to work at least 41 hours a week earn approximately $2,900 a month after commission was charged by the employer. After gas cost and necessary spending on other maintenance for the vehicle, which the drivers are responsible to take care of on their own, the actual earning for each driver who works 41 hours a week was substantially lower than the initial $2,900.
To put that amount into perspective, an average American works 34 hours a week while earning a monthly salary of $3,769, according to research-based consulting company Gallup.
The SFGate survey also revealed that 73 percent of Uber drivers work 30 hours or less in an average week. An Uber driver who works 21 to 25 hours a week would only earn $1,376 before gas and maintenance costs.
As drivers find it difficult to secure financial stability, 65 percent of former Uber and Lyft drivers said that they have quit their respective jobs within six months after starting work while 18 percent quit before reaching two months of employment. Only 10 percent of previous Uber and Lyft drivers have managed to prolong their current employment for more than a year.
"There's not much difference between a job that pays minimum wage [and driving for Uber or Lyft] once you calculate the actual earning and the cost that a driver is required to be responsible for," Kim said. "It's understandable that many drivers choose a different path after such a short time."
By Brian Choi